Mark's Story
Since 1986, as president of Consultant Board, Inc., and Mark Holmes Group, Mark has helped hundreds of companies improve leadership, employee performance and motivation, sales and customer service. 
Holmes began speaking and training at the age of 21 for National Leadership Institute of Austin, TX.  Since then he has presented over 2,500 workshops, keynotes and webinars. From donating his speaking services to numerous community groups to giving paid keynotes and presentations at conventions for well-known brands like Dunkin' Donuts, Chick-fil-A, Bass Pro Shops, KFC and ServiceMASTER, Mark loves to engage audiences and share helpful insights. 
Mark is the author of five books including his new book, The 5 Rules of Megavalue Selling and the best-selling Wooing Customers Back now in it's 7th printing, as well as 14 e-books and hundreds of articles. His ideas have been widely covered in the national media such as FOX Business Network, CBS MoneyWatch, Wall Street Journal, The Chicago Tribune, HR Executive and Drake Business Review. 
Holmes' has owned several companies including a marketing consultancy and a local radio station. He graduated from the University of Texas, McCombs School of Business with a degree in marketing, and completed Masters' courses at the University of Oklahoma and Southeastern University in business and organizational change. He writes the column, Business Shifts, for The Springfield Business Journal.
Mark and his wife have two grown children and four grandchildren. He enjoys spending time with his wife and their family.
Lawrence Labedz, Senior Consultant and Coach
Lawrence started his business career in a family business. Starting from stock boy and moving up through the organization to president and owner. He started managing the family business when his father became ill and later died. Lawrence brought the company back to profitability and eventually sold the business. 
Lawrence Labedz was a Delivery Executive for a multinational software company. There he fulfilled a number of roles including Operations and Enablement Manager for the consulting group he was in. Lawrence has his Global Master Certification in Transformation Management. He has developed organizational change management (OCM), learning and performance optimization (LPO) strategies for various global and national companies for the last fourteen years. Lawrence has also developed education strategies for sales force automation projects and computer systems training. Additionally, He has his Prosci certification as an Organizational Change Professional. 
Prior to coming to the software company Lawrence was the Manager of Educational Services at large wholesale distribution company and was responsible for the development and delivery of all technical training. He was part of the management team that successfully implemented SAP on time and within budget. 
Lawrence has had multiple years of business management experience. His educational background includes: BS in Computer Science – MIS, MBA in General Business Management. This management experience includes the operation of two businesses, analytical skills, excellent organizational communication, and proven ability to interface with all levels of management.
Design Squad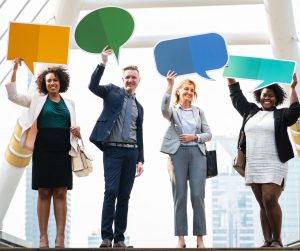 Our team of freelancers are a goldmine of talented people, blessed with years of experience in graphic design, game design, game play and professional writing. Their expert-level work enables Mark Holmes Group to create effective custom solutions for our clients, and provide unique offerings for today's organizational challenges. We are fortunate to have their help.